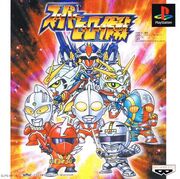 Super Hero Operations (スーパーヒーロー作戦, Sūpā Hīrō Sakusen?) is an RPG released in 1999 by Banpresto for the Sony PlayStation. The game spawned a sequel, known as Super Hero Operations: Diedal's Ambition. The game is considered part of the Super Robot Wars series due to the characters Ingram Prisken and Viletta Vadim who originally debuted in the game alongside the mech R-Gun, which later included in Super Robot Wars Alpha.
The theme song for the game was performed by Ichirou Mizuki and Mitsuko Horie.
Characters
Edit
The game featured playable characters from different Tokusatsu and Anime series. The following series are included in this game:
Ad blocker interference detected!
Wikia is a free-to-use site that makes money from advertising. We have a modified experience for viewers using ad blockers

Wikia is not accessible if you've made further modifications. Remove the custom ad blocker rule(s) and the page will load as expected.