"As soon as you obtain a possible landing point, let me know."
This article is a stub, meaning it needs more info. You can improve this Tokupedia article by expanding it.
| | |
| --- | --- |
| | WARNING: This show contains scenes of nudity. Viewer discretion is advised! |
Shougeki Gouraigan
Number
Number of episodes:
13
First episode:
Daredevil
Original airing:
October 4, 2013 - December 28, 2013
Shougeki Gouraigan is a 13 episode tokusatsu series created by Keita Amemiya and written by Tohshiki Inoue.
A spaceship called the Bunba transporting prisoners from a place called Chou Shinkai to a place called Land of Exile is suddenly attacked by a powerful demon who causes a prison break and frees its master, Jin and several of the prisoners. Though the demon is destroyed, Jin plans to unleash an army of 1000 soldiers in 100 days to destroy the Earth. The ships captain, Gou, plans to gather a ragtag group of 4 escaped prisoners with unique fighting skills in order to protect the planet from the impending invasion.
Characters
Edit
Hikaribito
Edit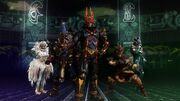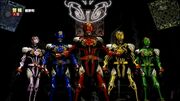 | | |
| --- | --- |
| Hikaribito Gou | Gou (Human Form) |
| Hikaribito Rai | Rai (Human Form) |
| Hikaribito Geki | Geki (Human Form) |
| Hikaribito Shou | Shou (Human Form) |
| Hikaribito Gan | Gan (Human Form) |
| | |
| --- | --- |
| Kageribito Jin | Jin (Human Form) |
Supporting Characters
Edit
Theme Song
Edit
Opening Theme
Edit
Ending Theme
Edit
Main Cast
Edit
Special Guest Stars
Edit
Suit Actors
Edit
External Links
Edit
Ad blocker interference detected!
Wikia is a free-to-use site that makes money from advertising. We have a modified experience for viewers using ad blockers

Wikia is not accessible if you've made further modifications. Remove the custom ad blocker rule(s) and the page will load as expected.