National Kid
Number
Number of episodes:
First episode:
Original airing:
National Kid (ナショナルキッド, National Kid?) was a TV series produced by Toei Company in 1960, and was partly a merchandising from Panasonic, then called National. The series was not very famous in Japan or the rest of the world, except for Brazil, where it was very popular, and is still heard of.
to be added
Characters
Edit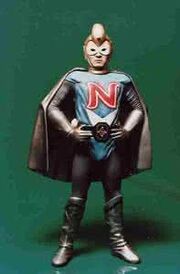 External Links
Edit
Ad blocker interference detected!
Wikia is a free-to-use site that makes money from advertising. We have a modified experience for viewers using ad blockers

Wikia is not accessible if you've made further modifications. Remove the custom ad blocker rule(s) and the page will load as expected.