Mr. Maxman (MR.マックスマン, Mr. Maxman?) is a Japanese live-action tokusatsu movie released in October 17, 2015.
Plot
Masayoshi Taniguchi (Yudai Chiba), is presenter number 2 of the channel Japan TV. He presents the same morning program «Fresh Wide» for 3 years and can't be number 1 because he makes too many mistakes. He is also in love with Yuko (Mizuki Yamamoto), a childhood friend, who is also working at the same broadcast channel as a reporter, but there is also no progress. One day, he finds glasses that will change his life. Once worn, they will give him super-powers and he decides to become a hero![1]
Characters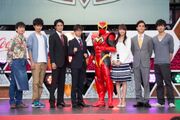 | | |
| --- | --- |
| Mr. Maxman | Masayoshi Taniguchi |
Cast
Notes
External Links
References
Ad blocker interference detected!
Wikia is a free-to-use site that makes money from advertising. We have a modified experience for viewers using ad blockers

Wikia is not accessible if you've made further modifications. Remove the custom ad blocker rule(s) and the page will load as expected.