Momoko Murakami: Yuko's sister, and the youngest of the siblings. After the invasion of the Dark Emperor Diable, Kami-sama gave Momoko a supporting role to Poitrine as Poitrine Petite. Though Poitrine Petite fights alongside Poitrine, they have a rivalry. She and Yuko do not know each other's identity which is subject to punishment if they were to find out.
Poitrine Petite
Edit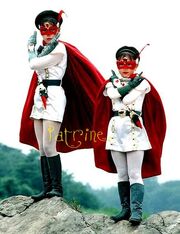 Poitrine Petite to compete to become. Although the united front while having a rivalry with each other and Potrine, because it is subject to a penalty of when the Barre is also identity and Yuko (it would have been in crayfish) the identity of each other do not know.
Stick: Makeover items and only weapon. Also it has the Cosmo breath function.
Ad blocker interference detected!
Wikia is a free-to-use site that makes money from advertising. We have a modified experience for viewers using ad blockers

Wikia is not accessible if you've made further modifications. Remove the custom ad blocker rule(s) and the page will load as expected.