Metal Kaiser
Number
N/A
Number of episodes:
3 (DVD released)
52 (Original plan)
First episode:
Original airing:
2007 (Trailer)
2014 (DVD release)
Metal Kaiser (五龙奇剑士/メタルカイザー Wǔ Lóng Qí Jiàn Shì/Metaru Kaizā) is a Chinese tokusatsu series. Made by the Tsuburaya Productions and Shanghai Film Group. The word "Kaiser" in the title means"Emperor" in German.
Metal Kaiser was tried to be Tsuburaya's first installment of the Chinese Ultraman series. However, when the 13th episode finished, Tsuburaya was be told that they did not applied the correct complete filming schedule to the government so Metal Kaiser couldn't keep filming in mainland China anymore. Later, due to Tsuburaya declare their bankruptcy in 2007, Metal Kaiser was missing in many years therefor fans in China called Metal Kaiser "the greatest regret of China-Toku" .
In October 2014, the first 3 episodes was released in Japan in DVD with no dubbing and allows fans see this forgotten series eventually.
to be added
Characters
Edit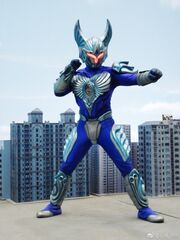 Supporting Characters
Edit
The monster suits in this unfinished series was later bought and modified by the Armor Hero production team.
External Links
Edit
Ad blocker interference detected!
Wikia is a free-to-use site that makes money from advertising. We have a modified experience for viewers using ad blockers

Wikia is not accessible if you've made further modifications. Remove the custom ad blocker rule(s) and the page will load as expected.