Legend Hero Samgugjeon (레전드히어로 삼국전 Lejeondeu Hieolo Samgugjeon, lit. Legends Heroes the Three Kingdoms), is a Korean tokusatsu television series. Produced by MoonWatcher and Synergy Media. The Series is broadcasted in EBS1.
"Who has a great dream, I will fulfill your wish with the power of rainbow!" Traditional Martial Arts School in Taoyuan in charge of the kitchen analogy of the tube. I love martial arts so much out there, but nature plays a kinder odd days ... One day, being beaten by Yu eoltteolgyeol to stand Fresh dream is to participate in the battle. Giving one example of the rainbow any wish. Dream Battle and only the winner of the last occupied the rainbow! For each one dreams of a hero seeking a rainbow analogies it has been constantly threatened, Cao Cao and Sun Ce with the ultimate power to emerge ... Dream of many heroes in the fight indulge into fierce battle is open!
Characters
Edit
Main Heroes
Edit
Other Heroes
Edit
Black Monarchs
Edit
Overlords
Edit
Transformation Devices
Edit
Legend Changer ◆◆◆◆◆◆◆◇◇◇
Multi-Use Devices
Edit
Individual Weapons
Edit
Dragon Blade ◆
Turtle Breaker ◆
Unicorn Spear ◆
Owl Bowgun ◆
Lion Knuckle ◆
Imperial Sword ◆
Phoenix Edge ◆
Battle Troica ◇◇◇

Tiger Drill ◇
Shark Saw ◇
Crocker Gatling ◇
Legend Machines
Edit
Legend King Eternity ◆◆◆◆◆◆❖◆◆◆◇◇◇◇

Legend King Majesty ◆◆◆◆◆◆❖

Legend King Trinity Dragon Form ◆◆◆◆

Legend King Dragon ◆◆

Dragon Cannon ◆
Legend Gear Trailer ◆

Turtle Shovel ◆
Unicorn Racer ◆

Owl Laser ◆
Lion Launcher ◆
Magic Wing ❖

Legend King Phoenix Complete Form ◆◆◆

Legend King Phoenix Chopper ◆◆

Phoenix Chopper ◆
Legend Gear Aero ◆

Phoenix Jet ◆

Legend King Marine Tiger Form ◇◇◇◇

Legend King Tiger ◇◇

Tiger Tank ◇
Legend Gear Cruiser ◇

Shark Diver ◇
Croc Hover ◇
Alternate Combinations
Edit
Legend King Trinity Turtle Form ◆◆◆◆
Legend King Trinity Unicorn Form ◆◆◆◆
Legend King Phoenix Jet ◆◆
Legend King Marine Shark Form ◇◇◇◇
Legend King Marine Croc Form ◇◇◇◇
Other Combinations
Edit
Adaptation
Edit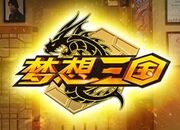 In China, Legend Hero Samgugjeon was also dubbed into Mandarin known as Dream of Three Kingdoms (梦想三国 Mèng Xiǎng Sān Guó), distributed by China Film Animation as an investor. Later, China Film Animation used the footage to produced another show, Dream of Legends (梦想传说 Mèng Xiǎng Chuán Shuō), which mix the fight scenes from the Korean version and new clips shot in China and performed by Chinese actors just like how Power Rangers Series does.[1]

External Links
Edit
References
Edit