Kamen Teacher (仮面ティーチャー, Kamen Tīchā?) is a franchise based on Japanese manga series Kamen Teacher written and illustrated by Toru Fujisawa.
Gouta Araki, a special instructor in the Kamen Teacher Program that gives problem schools a complete overhaul. When he dons a mask, Araki becomes "Kamen Teacher Hayato Jumonji", a hero for justice who brings light to troubled schools by putting down delinquents.[1]
Kamen Teacher - 2007 manga
Kamen Teacher BLACK - 2013 manga
Kamen Teacher - 2013 TV series
Friday Road SHOW! Special Drama Project: Kamen Teacher - 2014 TV special
Gekijoban: Kamen Teacher - 2014 film
Kamen Teacher SILVER MASK - 2015 musical show
Characters
Edit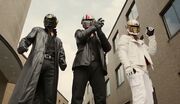 | | |
| --- | --- |
| Kamen Teacher Silver | Gouta Araki/Hayato Jumonji |
| Kamen Teacher Black | Keigo Kusanagi/Hayato Jumonji Jr. |
| Kamen Teacher Gold | ? |
Despite the original manga including lots of tribute to the Kamen Rider and Metal Hero Series, the live-action adaptions are usually not considered as a tokusatsu by the mainstream media. This might because the agency of the main heroes' actors, Johnny & Associates, do not allow their artists appeared in tokusatsu series.

The only exception is Hiroshi Nagano from V6, who portrayed Daigo Madoka in the 1996 Ultraman Series, Ultraman Tiga.
References
Edit
Ad blocker interference detected!
Wikia is a free-to-use site that makes money from advertising. We have a modified experience for viewers using ad blockers

Wikia is not accessible if you've made further modifications. Remove the custom ad blocker rule(s) and the page will load as expected.