Henshin Ninja Arashi
Number
Number of episodes:
47
First episode:
Original airing:
April 7, 1972- February 23, 1973
Henshin Ninja Arashi is a 1972 jidaigeki/superhero television series created by Shotaro Ishinomori and produced by Toru Hirayama.
In the Edo period, a time of relative peace and prosperity, a shadowy evil group of ninja known as the Blood Wheel Clan plot to destroy the peace of Japan and create chaos using an ancient art of transformation. This power gives the Clan's warriors the ability to become half human and half animal monsters and overpower all who oppose them. One of their followers plots against them by teaching his son Hayate this art so that his body can take on the form of a birdman named Arashi to fight them. Upon learning of this betrayal, Hayate's father is murdered and young Hayate vows revenge against the evil clan he once served under, waging war against them as the Transforming Ninja, Arashi.
Characters
Edit
Blood Wheel Ninja Clan
Edit
Devil Sai
Original Manga
Edit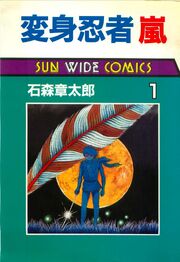 Written and illustrated by Shotaro Ishinomori for Sun Wide Comics and released before the TV series in 1972, the Henshin Ninja Arashi manga is a darker, more violent storyline. Some of Ishinomori's drawings in the manga were made to reflect that of ancient Japanese artwork to better capture the Edo period setting. The main protagonist has a more morally ambiguous persona while the villains were sometimes portrayed in a somewhat more sympathetic light, making the readers question whether or not Hayate's quest for vengeance was right.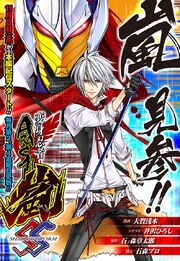 In the mid 1970s, Ken Ishikawa of Getter Robo fame illustrated and wrote original stories with Ishinomori called Shin Henshin Ninja Arashi and Henshin Ninja Arashi Gaiden
On November of 2013, a sequel manga called Henshin Ninja Arashi: Shadow Storm was put into monthly web manga publication. Written by Hiroshi Izawa (Digimon Adventure) and illustrated by Asagi Oga.  It tells the story of how Hayate and Arashi have revived in the present day and two modern ninjas on a quest to find them, only to discover an amnesiac Hayate. The manga finished publication sometime in 2014 and is now being collected into print, with Vol 1. being released on July 25, 2014

The Oni Armor from Kamen Rider Hibiki bears resemblance to Henshin Ninja Arashi's hero form.
Sugane Tachibana from Gatchaman Crowds has the ability to transform into a G-Form that has design elements of Arashi, specifically the bird mask. In addition, he has a sword called Arashi which he uses for his special attack.
External Links
Edit