description to be added
Character History
Edit
A novice student who practices the "Flying Dragon Fist" at Do-Won-Gwan Martial Arts School with her best friend, Liu Bei. They are both orphans who have been adopted by Master Lu Zhi. She will be later the holder of Zhao Yun after their misunderstanding about Do-Won-Gwan. Her dream is "to be Master of Do-Won-Gwan and be famous".
Personality
Edit
Gongsun Zan is strong, hot tempered girl especially when Liu Bei becomes lazy. She supports his friend when in a time of need and understand what he feels.

Legend Hero Zhao Yun
Edit
Legend Hero Zhao Yun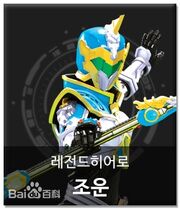 References
Edit
Ad blocker interference detected!
Wikia is a free-to-use site that makes money from advertising. We have a modified experience for viewers using ad blockers

Wikia is not accessible if you've made further modifications. Remove the custom ad blocker rule(s) and the page will load as expected.