"Byclosser Gin"
―Byclosser Gin's roll call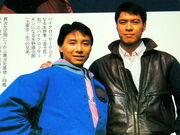 Younger brother. High school student - (17 years 16) February 2, 1968 2:02 born. Likes computer. He owns a Suzuki RG250 Gamma.
Byclosser Gin
Edit
The body is blue.
Sling Flasher: Ray gun shaped like a rubber slingshot. Frequency of use was highest.
Cross Shooter: Gin of 2 twin pom that is built into the hand. Folding sight is facing in and precision shooting with. Because of built-in weapon, I was not attracted to the magnet of Hyakumegan.
Dimension Eye: Both eyes light, normally I would like such as are visible object invisible.
Carrier Starcore: Located in a different dimension, the mother ship of bike Rossa over. possible boarding by Mizuno brother is transformed into a bike Rossa over. I have housed the Ken loader and Ginkuron.
Ginkuron: Bike silver to boarding. I will travel at a maximum speed 400km. Flight speed is Mach 1. I also serves as a beam gun to fire a deathblow Vu Laser Cannon.
Coalescence Technique
Edit
Breakfast Laser Cannon: Deadly Attack bike Rossa over. Place the Ginkuron riding the silver Ken shoulder, "parts laser cannon, ready to fire!" Ginn geared Ken is the enemy with the utterance of, and "OK!" And shouting, "shooting!" With two people screaming to fire the wave rays of deadly from the headlights of Ginkuron in. Solar energy. Can not fire because it takes time to fill the energy, in the last episode was caught off the weakness in Gorazonga. Initial and (wide orange lightning bolt-shaped in) (Blue with sharp straight line) late in but the shape of the beam different, both colors are used interchangeably in the final story.
Shooting parts laser canon is to fix the Ginkuron by a thick iron bar, taken to devise a camera position as this horizontal bar is not displayed. Also, the scene outdoors to be inserted into Episode 7 since, taken by hanging in the crane.
Cross Attack: Two people pair the arm, the enemy of the throat lariat give someone a.
Cross Hurricane: Ken is up tossed the Gin, I cause a tornado Gin is to air rotation.
Cross Bomber: Gin is jump in the springboard Ken's right shoulder, give someone a punch to the enemy.
Cross Power: Silver Ken cross blade is irradiated with a sling flasher is filled with energy, has a cross blade by two people, I kill the hit coming enemy. I broke the golden magic sword cut Chu night in the first 15 episodes.