Gatchaman
Talk

0
760pages on
this wiki
Gatchaman
A movie for Gatchaman

Release date August 24, 2013
Written by Yusuke Watanabe
Directed by Toya Sato
Franchise
Gatchaman (ガッチャマン, Kagaku Ninjatai Gatchaman?) is a live-action superhero tokusatsu film adaptation of the classic 1972 anime Science Ninja Team Gatchaman created by Tatsunoko's Tatsuo Yoshida
Plot
to be added
Characters
Cast
Notes
The film opened at #6 at the Japanese box office and was panned by both US and Japanese film critics for its dull storyline, mediocre CGI effects and overuse of action film cliches. However, the critics praised the film's costumes and fight choreography.
George Asakura was called Joe in the original series. Whether this is a new character who replaces Joe after he died or an alternate interpretation of Joe the Condor is unknown at this time.
Jun and Jinpei's last name is revealed to be Ohtsuki, the film might be implying that they are biological siblings in this incarnation. In the anime, their last names were never revealed and Jinpei was Jun's adopted brother.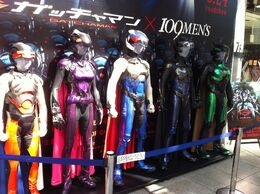 The Gatchaman costumes were one of the biggest production costs for the film, with the director wanting a "Hollywood level" quality to them.  They took one year to design and construct and cost $40,000 US each for the five suits, resulting in a grand total of $200,000 (¥200,000,000 JPN) in production costs.
Ken The Eagle is portrayed by Tori Matsuzaka, better known by Super Sentai fans for his role as Shinken Red from Shinkenger.
External Links