GUNBLADE
Number
Number of episodes:
First episode:
Original airing:
March 2015 (Korea)
September 2015 (Asia)
January 2016 (US and Europe)
GUNBLADE is an upcoming Japanese/South Korean tokusatsu series directed by Koichi Sakamoto and produced by Gunblade Culture Industry SPC.
An evil scientist named Dr. Dexter and his supercomputer OLYMPUS unleash a sealed evil clan called the Gothic, causing untold destruction and threatening the human race to extinction. A special six member task force called the Gunblade Team is formed, using special smart phone devices called GB Drives to summon app weapons and powered exosuits to perform superhuman feats to combat this threat.
Characters
Edit
GUNBLADE TEAM
Edit
Supporting Characters
Edit
This project seems to have been cancelled due to no announcement since the Pilot Film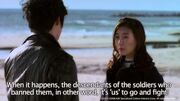 External Links
Edit
Ad blocker interference detected!
Wikia is a free-to-use site that makes money from advertising. We have a modified experience for viewers using ad blockers

Wikia is not accessible if you've made further modifications. Remove the custom ad blocker rule(s) and the page will load as expected.