Dinosaur War Izenborg
Number
N/A
Number of episodes:
39
First episode:
Original airing:
October 17, 1977 - June 30, 1978
description to be added
to be added

Characters
Edit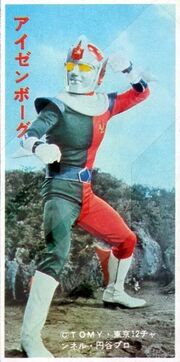 Supporting Characters
Edit
Like Azteckaiser, Izenborg was an anime-tokusatsu hybrid show.
A Westernized version was released on video under the title Attack of the Super-Monsters.
External Links
Edit
Ad blocker interference detected!
Wikia is a free-to-use site that makes money from advertising. We have a modified experience for viewers using ad blockers

Wikia is not accessible if you've made further modifications. Remove the custom ad blocker rule(s) and the page will load as expected.