"I wish to capture this world"
This article would be much better if it had a picture to go with it, another picture in addition to the one(s) it has, or a better version of a picture it has now. If you have one, won't you upload it?
Reason: Pixellated photos
"Pink, à la Mode!"
Catherine Fontaine is the Pink Ranger of France Five.
Recognized top-model and skilled in haute-couture, she is accustomed to the jet set parties and also a cleaning maniac (to the dismay of our heroes).
Character History
Edit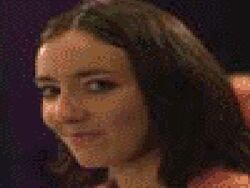 to be added
Personality
Edit
A natural happy girl, she is with Blue the good natured member of the group. Playing hard to get, she is in reality very interested in Silver.
Pink à la Mode
Edit
to be added
to be added
External links
Edit
References
Edit