"As soon as you obtain a possible landing point, let me know."
This article is a stub, meaning it needs more info. You can improve this Tokupedia article by expanding it.
Armor Hero Hunter
Number
06
Number of episodes:
60 (30+30) (Season 1 & Season 2)
First episode:
Original airing:
October, 13 2018 (Season 1)
July, 2019 (Season 2)
previous
The Legend of Armor Hero
Armor Hero Hunter (铠甲勇士猎铠 Kǎi Jiǎ Yǒng Shì Liè Kǎi) is the sixth installment of the Armor Hero Series.
Pre-Production
Edit
Before the official English name was finally decided, the series was originally called Armor Hero Hunter Armor. With the heroes are named after their animal motifs directly:
Iron Horse Hunter Armor
Holy Eagle Hunter Armor
Faro Wolf Hunter Armor
Power Elephant Hunter Armor
Characters
Edit
Season 1
Edit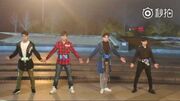 Season 2
Edit
Lantao
Jianglin Renjian
Minaqi
Ange
En Wei
Kòu dòu
Dave Rui
Jin San
Kǎo lā
Supporting Characters
Edit
Legendary Armor Heroes
Edit
| | |
| --- | --- |
| Dragon-Man | ? |
| Eagle-Man | ? |
| Rhino-Man | ? |
| Mastif-Man | ? |
| Tiger-Man | ? |
| Emperor | ? |
| Mars | ? |
| Aero | ? |
| Giant | ? |
| Lava | ? |
| Tsunami | ? |
| Tornado | ? |
| Cliff | ? |
| Techno | ? |
| Atlas | ? |
| Captor King | ? |
| Ultra Max | ? |
| Captor Reflect | ? |
This series is to commemorate the 10th anniversary of Armor Hero series.
This series first time have a Japanese actor to portray an Armor Hero's human identity.
This is supposed to be the final Armor Hero TV series
External Links
Edit
References
Edit