"As soon as you obtain a possible landing point, let me know."
This article is a stub, meaning it needs more info. You can improve this Tokupedia article by expanding it.
Armor Hero Captor (铠甲勇士捕将 Kǎi Jiǎ Yǒng Shì Bǔ Jiāng) is the fourth installment of the Armor Hero Series.
Characters
Edit
The Armor Heroes
Edit
The Super Computer System

King of Zombie (僵王)
Daji (妲己)
Supporting Characters
Edit
to be added
Armor Hero: Captor King (Feature Film)
Edit
This series has a first Armor Hero have multiple form.
This series has the least amount of Armor Heroes (with a grand total of 3).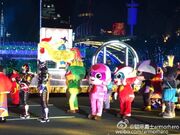 Captor Carbon and Angstrom's suits were showed at the 2016 CCTV New Year's Gala south stage. First time marks the Chinese Tokusatsu was recognized by the mainstream media in PRC.
External Links
Edit