This is an article about the team, for the show see Kanpai Senshi After V
Kanpai Senshi After V (Cheers Warriors After V) is the name given to the team who were formed as Golden Warriors Treasure V (Ogon Senshi Treasure V). A team of five combat specialists, they formed to fight against a group of evildoers hellbent on ruling the world, who the police and Self-Defense Force were powerless to stop. However, their drinking parties after battles became better known than the battles themselves, and they became known as After V.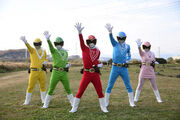 Team History
Edit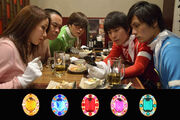 Weapons/Attacks
Edit
To be added
Ad blocker interference detected!
Wikia is a free-to-use site that makes money from advertising. We have a modified experience for viewers using ad blockers

Wikia is not accessible if you've made further modifications. Remove the custom ad blocker rule(s) and the page will load as expected.