Acres: Ground Master
Number
3
Number of episodes:
8
First episode:
Original airing:
April 21, 2017 - June 16, 2017

previous
Halser Acre 2
Acres: Ground Master (エイカーズ グランドマスター, Eikāzu Gurando Masutā) is an Okinawan local hero tokusatsu series, focusing on food and the natural environment. "Halser" means "farmer" and "Acre" means "family" in the Okinawan dialect. Series produced by Ritz Pro and CMC Okinawa.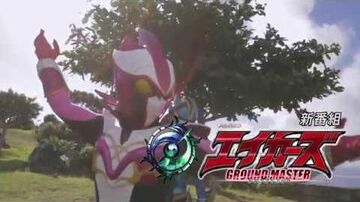 *To be added
Characters
Edit
Halser Yuu
Yuu Toji (

田路由宇

)
Nog Kamaa
Utaro (

歌郎

)
Nog Heraa
Otojiro (

音次郎

)
Heraa (

ヘラー

)
Kamaa (

カマー

)
Minoru Toji (

田路みのる

)
Satsuki Toji (

田路五月

)
Karina (

香里奈

)
Nozomi Oogane (

大兼のぞみ

)
Saki Tetone (

手登根咲

)
Kenta Tetone (

手登根健太

)
Teppei Baten (

馬天鉄平

)
Kaoru Ihara (

伊原香

)
Samaritan Dobuu (

サマリタン・ドブー

)
Samaritan Chiree (

サマリタン・チリー

)
Amigos (

アミーゴー

)
Natsumi Ikema (

池間夏海

) as Yuu Toji
Kota Kategawa (

嘉手川航汰

) as Utaro
Aoi Kanda (

神田青

) as Otojiro
Tomoji Yamashiro (

山城智二

) as Heraa
Shingo Chinen (

知念臣悟

) as Kamaa
Kenta Nakaza (

仲座健太

) as Dobuu
Dashinichiro Chinen (

知念だしんいちろう

) as Chiree
Airo (

アイロウ

) as Minoru Toji
Moko (

モコ

) as Satsuki Toji
Natsuko (

ナツコ

) as Karina
Dashinichiro Chinen (

知念だしんいちろう

) as Nozomi Oogane
Chigusa Yamanouchi (

山内千草

) as Saki Tetone
Shin'ya Aragaki (

新垣晋也

) as Kenta Tetone
Ryuta Isa (

伊佐龍太

) as Teppei Baten
Misuzu Maeshiro (

真栄城美鈴

) as Kaoru Ihara
Morimitsu Tomikawa (

富川盛光

) as Amigo
Taiga Kaneshiro (

金城大河

) as Amigo
Suit Actors
Edit
Shingo Chinen (

知念臣悟

)
Hiroyuki Shimabukuro (

島袋寛之

)
Kyohei Higa (

比嘉恭平

)
Yasushi Murayama (

村山靖

)
Yukie Irei (

伊禮友希恵

)
Producers:

Yoshikazu Takenouchi (

竹之内良和

)
Seishun Toguchi (

渡口政旬

)

Directors:

Tsukasa Kishimoto (

岸本司

)
Yasunori Matayoshi (

又吉安則

)

Screenwriter: Tsukasa Kishimoto
Opening theme

Rise&Shine

Lyrics and Composition: Kiyosaku (

キヨサク

)
Artist: MONGOL800
Ending theme

Kampachi (

カンパチ

)

Lyrics: Moko (

モコ

)
Composition: Airo (

アイロウ

)
Arrangement: Masahiro Arakawa (

新川雅啓

)
Artist: AIMOKO (

アイモコ

)
External Links
Edit
References
Edit